Nurjahan Begum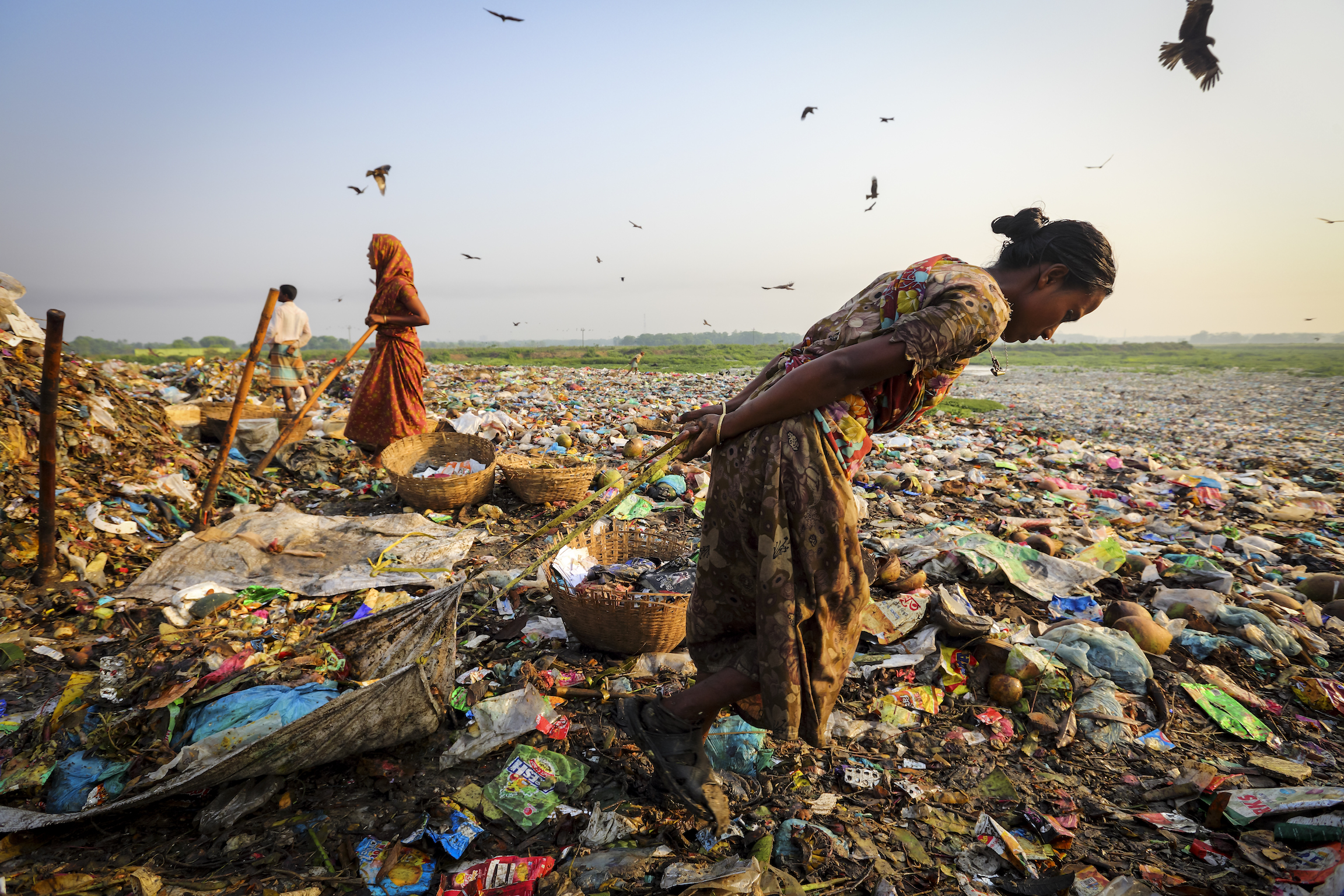 Nurjahan Begum
Photo location: Narayanganj, Bangladesh
When danger comes, it comes in every conceivable way. Who would have thought that we would have to work here in this dirty dump yard? Fate has dragged me here. I am from a respectable family. Women of our family never used to work outside of the home ever. Now I work here with my whole family.
After cyclone Sidr, we were trying to fix our house but another cyclone, Aila, took the rest of it. We lost everything to the rising tide.  We lost our home, crops and now we are losing our dignity by doing this work every day. Everything we had is under water now. Now, except these hands, we have nothing left and are like beggars. 
My father-in-law could not tolerate our situation and died from the grief of losing his home, land and property. My husband left me with my two daughters without saying anything and married a woman for money. I know he is living with his new wife in a nearby slum. I never thought that he could do this to me and to our two beloved daughters. How could he leave us like this? Once upon a time I had a family and a home. My husband could not eat if I did not cook the food myself. Now I know everything was a dream and the biggest lie.
I came here after taking a loan from villagers and selling some of my jewelry which I had been wearing my whole life. I took my mother-in-law with us. She is all alone now. How could I leave her? I thought if we eat, she will eat with us. Now I have four mothers; my own mother, my mother-in-law and my two beloved daughters. We are all working here and living in a rented tin shed room. We are working hard and repaying the loan every month. My daughters can't go to school anymore. How can they? After working here the whole day in this smelly rubbish, no one allows us to sit beside them. Getting water is very tough. The whole night we have to wait in the line to take a bath, but washing and smelling the soap feels heavenly.
I passed class eight but my daughters can't even pass primary school. There is no end to our troubles. I can't tolerate seeing two older women working so hard every day. I can't bear to see my innocent, beloved daughters  working in this dump yard from morning till night just to survive. I feel so depressed and feel like giving up sometimes. It's better to die than seeing this misery in our lives. People throw broken glass and blades in the garbage; they never think there are people like me who have to work here. Those of you who threw that broken glass in the garbage need to know it cuts our feet. But it's okay; I am accustomed to such pain. I forgot the last time when I smiled but the tears never stop rolling down from my eyes. We sit here and have our lunch. The smell of rubbish is nothing to us anymore. Nowadays our lives have become more rotten than this rotten dump yard.
 Link to 'Stories from Bangladesh'.